is rogue: blush boudoir photography?
Rogue Images Photography from the very start has always been a company about telling stories. Families, couples, seniors and now, we are launching a new line, Rogue: Blush. A line of photography celebrating you for exactly who you are. These sessions are designed to empower you to feel your best in an intimate setting.

While the style is technically "boudoir" this is not a half naked photo shoot. We are wanting to highlight your beauty and leave your audience blushing and hoping for more.

We invite you to come to your session looking for an unforgettable experience by being greeted with champagne followed by an hour and a half of pampering; getting your hair and makeup done by our amazing artists..
real blush.
click any image to see highlights from these amazing ladies!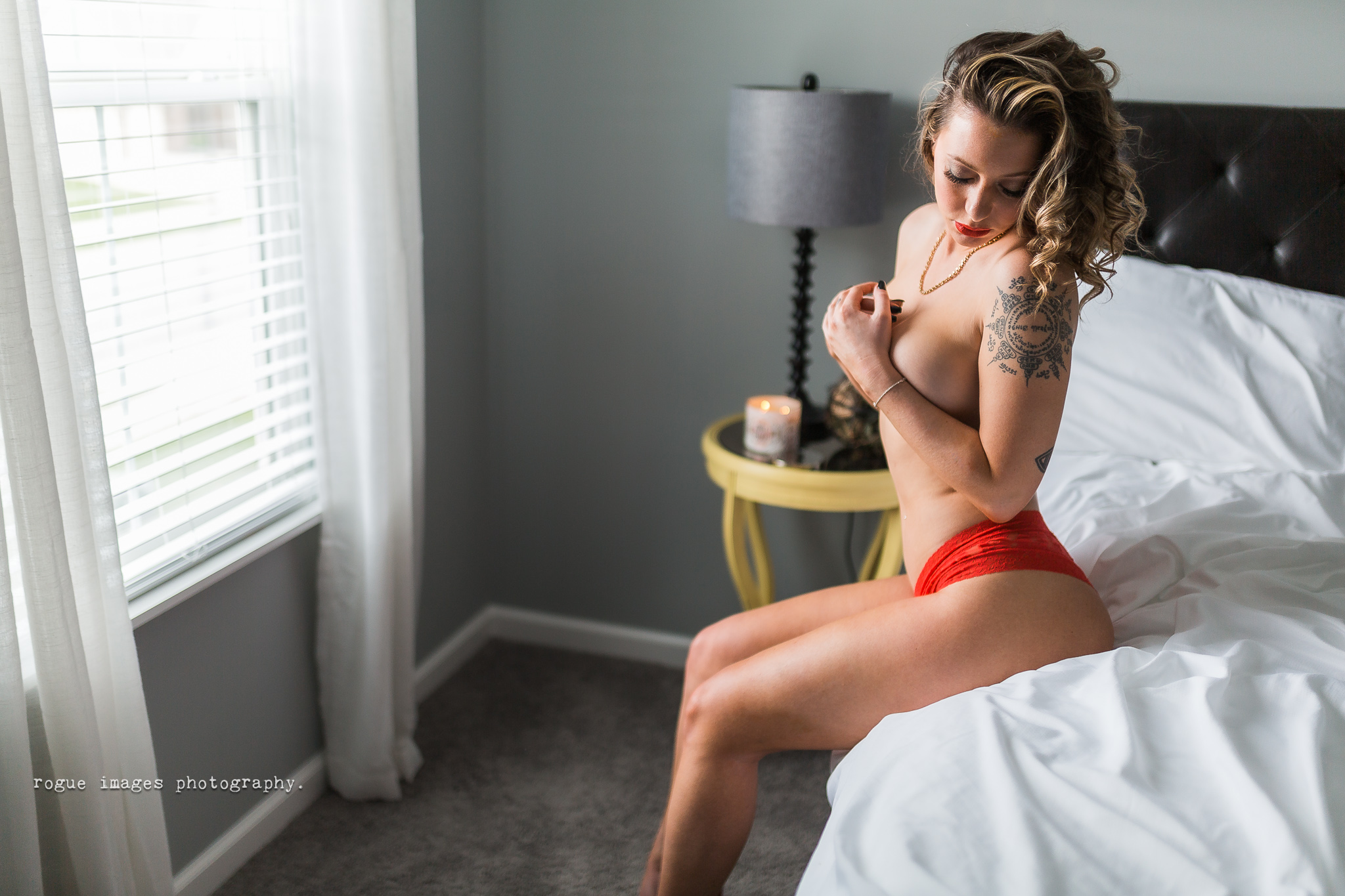 rogue: blush | package information
Professional hair and makeup, changing rooms, champagne and a support team will be provided for you.

Each shooting session is 90 minutes and will include shots by 2 different photographers with the husband and wife team of Cory & Cody. There will always be two staff members in the room at all time to create the perfect pose and angle.

Please plan on around 3 hours total time to get hair and makeup and your session completed.

We encourage you to bring 3 to 5 "outfits" to choose from. We may only get to 2 or 3, but having more choices is always a plus. Don't think that everything needs to be "sexy". Shot right, a sweater or his favorite low cut t-shirt etc does very well and with the images we are trying to create for you, sometimes, more is more. It's all about your comfortably in front of a camera!
Rogue: Blush Pricing
Session/Sitting Fee - $349.00 (Includes Professional Hair & Makeup)
A la Carte Add - Ons
· 10 Images With Full Copyright + Print Release - $150.00
· 20 Images With Full Copyright + Print Release - $275.00
· 30 Images With Full Copyright + Print Release - $350.00
· 8" x 8" Little Black Book (Made From Selected Images) - $200.00
2019 Rogue: Blush Session Dates:
11.10.19 - JUST 1 SPOT LEFT
***** Custom dates can be added, if you have an interest in shooting with us and these dates don't align with your schedule, please fee free to reach out to us and we will look at adding more dates! *****
Ready to learn more about our rogue: blush photo process?
Contact us now.
From the moment I walked in for my blush session I felt so pampered and welcomed. I was very nervous for the session but the whole team helped calm my nerves and just a few minutes into the session I felt like I could do it for hours! Truly an amazing experience and recommend anyone to do it, whether it's for your SO or just yourself (worth it!). I can't wait to see what work they do at our wedding :)
- Anonymous ; )
I saw a posting for the Rogue Blush line and I had been wanting to get photos taken like this, as I had gotten them done previously by another photographer and hated the outcome. I decided to give them a try and I was blown away by my experience. Cody and the team went above and beyond for my pictures. I was greeted at the door with champagne, the makeup artist and hairstylist listened to what I wanted and did exactly that, making me feel so beautiful that I never wanted to take it off!! The team worked so well with me to make me feel comfortable. They spent so much time with me to make sure they got the best possible shots and also listened to what I wanted and made sure to incorporate it in the photos. When I got my photos back I was blown away at how stunning they were. I normally don't care for pictures of myself but for the first time ever it was so hard to pick which ones I wanted because I truly wanted them all... they were THAT good!! I already know who I will be coming to when it's time for my engagement and wedding photos! I would highly recommend Rogue photography to everyone I know! They are amazing and they take photography from being simply a picture to a piece of art.
- Callie
What an experience! I feel like Rogue rolled out the red carpet for their Blush clients. I got to sip champagne while having my hair and makeup done by the two sweetest, most complimentary stylists. Once I was all gussied up, I was escorted to the master suite where all of my "outfits" were laid out. Cody and Kendra really went the extra mile to make me feel comfortable but honestly after a few glasses of champagne I was feeling ready to bring out my inner VS angel. I just received an email with my online gallery and I'm just BLOWN AWAY. Every angle, every frame, every bit of posing looks amazing and so sexy and I just couldn't believe that was me in those photos. I'd recommend any woman I know to do a boudoir session at least once in their life and especially with Rogue: Blush. This was hands down the best experience I could've asked for!
- Lauren
I have worked with Rogue Images Photography multiple times; engagement sessions and wedding day. When they added their Rogue Blush line I was intrigued. I have been following their new line and always loved the images but wasn't sure if I would ever be comfortable enough to do it. I finally decided, why not? I am always looking for something to get me out of my comfort zone and this was just what I needed. Ironically enough, Cody and Kendra were the same exact photographers I had on my wedding day. It was so nice to see familiar faces to make me feel at home. The team helps you pair outfits, come up with ideas, and just make you feel at ease. I love that they encourage and welcome all ideas and can really bring out the personality in the photos and style. If you are contemplating doing a boudoir, don't be nervous. Just do it, you won't regret it especially with this wonderful team. They are an extremely talented group of photographers and even better people! I will always come back and use Rogue to capture life's greatest moments. Thanks for always being so great!
- Kaylee
I just completed a Blush session, and while I was really nervous to do it, it was AMAZING. Everyone there did everything they could to make me as comfortable as possible, and all the photos were great! They took the time to ask what I my goals/vision for the session were, and I really appreciated it. I can't really speak highly enough of these guys. They also did my engagement session, and will be photographing my wedding in October. I already recommend them to all of my friends! - Leslie
Rogue Images Photography was great to work with in their Blush session. I was very nervous at first about the whole thing, but signed up anyways. I really appreciate that Rogue Images Photography would keep my photos private and listed my requests contractually. Hair, make-up, and mimosas were very fun to start! I didn't exactly know what to bring, so I brought a ton of clothes and they had someone lay out outfits based on what I brought while I had my hair and make-up done, which I loved. When it was time to take photos, they made me feel very comfortable and gave instructions on how to pose. I'm definitely an awkward person, and I can't believe how great the pictures turned out. I'm really glad how easy and fun they made everything. I definitely recommend doing the blush session, you will not regret it.
- Amy
I have worked with Rogue on a few occasions - engagement, wedding, family photos. When they introduced Blush, I knew I would eventually do a shoot. All I can say is I'm Obsessed!! From the mimosas, hair and make-up to help with my outfits and the photographers, I felt like a queen. Having done a boudior shoot before and knowing both Cody and Cory, not ounce of me felt uncomfortable. I'm not surprised at all at how much I'm in love with my pictures. Rogue does such an amazing job. I'll forever continue to work with them on every level. This was quite a fun way to celebrate me turning 30!
- Megan
All I can say is WOW! Having previously worked with Cody for my engagement photos, I knew my Rogue Blush experience would be nothing short of amazing. This experience was definitely a little out of comfort zone, but I am SO glad I did it. It was so nice to be greeted with mimosas and pampered by the Rogue Blush team. Lauren and Nikki did a wonderful job with my hair and makeup, giving me a little extra confidence to calm my nerves. Cody and Cory made the experience so comfortable, always giving me direction on what looked best. I left feeling so beautiful and so much more confident in myself. I could not be happier with the way my photos turned out and I am so excited to give my fiance his little black book on our wedding day!
- Megan
I truly could not have had a better experience with my Blush session! From the minute I walked in the door, Cody and the entire Rogue Blush team made me feel at ease and any nerves I had disappeared. The hairstylist and make-up artist were both phenomenal, and the Rogue Blush team did a great job helping me choose pieces and create outfits that I felt sexy in! During the session, Cody and Cory gave me tons of direction and helped me find poses that highlighted the parts of me that I love. I left feeling confident in myself and so happy that I had gone outside my comfort zone! I was blown away when I got my pictures back. The Rogue Blush team absolutely nailed the looks I was going for! I think these pictures have helped me see myself the way my husband sees me. I can't wait to see his reaction when I give him the little black book!
- Kate
I had an amazing experience with the Rogue Images team while doing a Rogue: blush shoot. I was so nervous to book because I'm incredibly shy when it comes to being out of my comfort zone, but from the moment I arrived Cody, Cory, and the rest of the team made me feel welcomed from the start. The hair and makeup team were both professional and personable. I was obsessed with how my overall looked turned out. I've had literally no experience in front of a camera but with the guidance and patience of Cody and Cory, I looked like I knew what I was doing. I originally did this as a wedding gift for my fiancé, but I also gained a great deal of confidence after seeing the finished product. I highly recommend working with the Rogue team! This really was the complete package from start to finish.
- Emily
There is not enough words to describe how in love I am with my boudoir photoshoot. The whole Rogue blush team is absolutely a dream to work with. This photoshoot made me feel sexy and beautiful, on top of capturing my personality perfectly. I felt confident and very comfortable during the whole shoot. The makeup/hair team are amazing as well. I am glad I have found a photography team to capture every moment in my life. Look no further, they're worth every penny!
- Barby
"I did the Blush shoot as the "paper" anniversary gift for my husband and now I wish every year was a paper gift year! The Rogue Images Team really nailed it with the name of this line and it's tag line. My husband will undoubtedly blush and I felt sexier than ever seeing these pictures of me. I had no idea I could feel that confident. From the fun and relaxed atmosphere to the beauty team to the expertise and guidance from Cody and his photographers... it was an amazing morning and I'd do it again in a heartbeat!"
- Alyson
5626 West Stream Drive | Indianapolis, IN | 46055 | 317.941.6088